Project details
Stainless steel rooftop lap and hydrotherapy pool, which the profile follows the curvature of the building which has an 'infinity edge' overlooking Battersea Power Station and the Thames. Plus 2 heat experience cabins (sauna/steam room), located in the basement spa area of the hotel.
Project role
Design and specification of the rooftop stainless steel pool tanks, hydrotherapy pool features, water treatment systems, pool cover and heat experience cabins; site monitoring and inspection of the subcontractor installation and commissioning.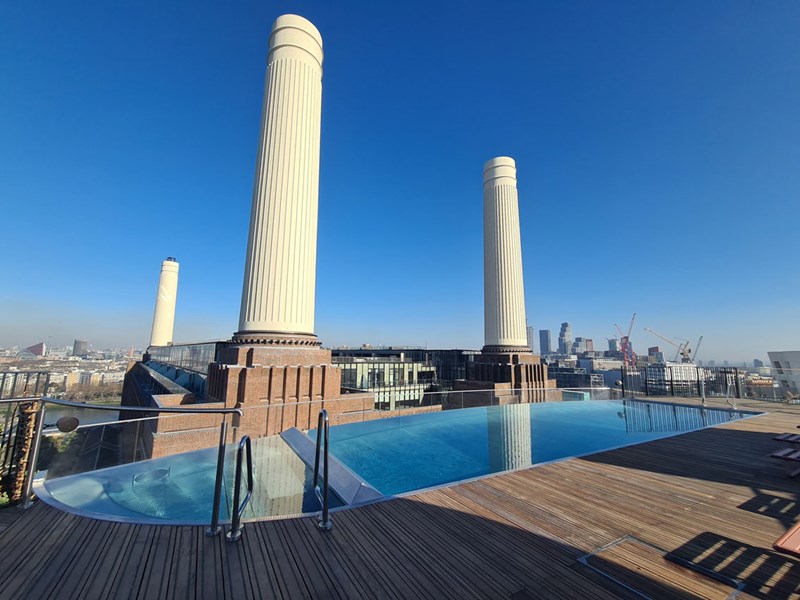 Battersea Hotel (art'otel) is a vibrant hotel at the heart of the redevelopment in Battersea with skyline views of Battersea Power Station and the London skyline. Situated along the south bank of the River Thames, Battersea Power Station was designed according to strict principles of environmental, economic and social sustainability, with the aim of offering high quality residential solutions in the centre of the Nine Elms district. The project will deliver a cluster of 'wavy but wonky' buildings in the centre of the redevelopment.
Two independent water treatment plants were provided, one for each pool. Circulation within each pool takes account of the pool cover cave, and the routing of all pipework is such that all pipework is effectively routed to the plantroom located two floors below. The water treatment system incorporates PAC flocculation, medium rate filtration on single grade sand beds, photo-oxidation using ultraviolet, heating, pH control and residual disinfectant control using chlorine.
If you would like to learn more about what we can do for your next project, please visit our Services page.